The Residence Borgo San Pietro was created through careful restructuring of a 17th-century farmhouse, its outbuildings, and grounds. The restoration was completed in 2002. It is surrounded by 7 hectares of private gardens.
There are 13 apartments; each has a private outdoor area complete with table & chairs. Apartments are of two types: 2 units which host up to 3 guests; each comprises a living room with kitchenette, a double bedroom, and a bath. There are also 11 units which accomodate up to 5 guests and include a living room with kitchenette, 2 double bedrooms, and a bath. See rates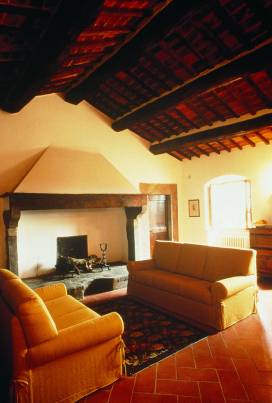 Living room in an apartment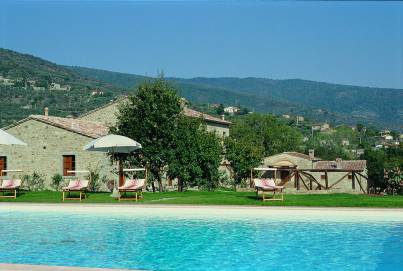 Exterior view with swimming pool

The restoration retained the characteristic elements of the area - stone facade, exposed wooden beams, tile floors, and fireplaces of native pietra serena.
The kitchenettes are fully equipped and satellite TV is in each apartment.
The site, with alleys from the apartments to the pool, and an antique well in the courtyard, recreates the charm and feel of a typical Tuscan village.
Facilities available for guests' use include not only the swimming pool but also a gym, a laundry room, and onsite private covered parking. Apartments are cleaned and linen changed weekly.
A store, where guests can purchase food and other items, is only 500 meters away.
For reservation inquiries, please complete the form in this link: Residence Borgo San Pietro - Inquiries